Case Study - Sir Frank Whittle (1907 - 1996)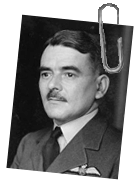 Sir Frank Whittle (1907 - 1996) was a Royal Air Force officer who invented the Jet engine.
He was only 21 when he first mentioned the idea of turbo-jet propulsion to his employers, the Air Ministry. He patented the idea in 1930, but had to let the patent drop as he did not have sufficient funds for its renewal.
In 1934 he arrived in Cambridge and completed his degree in only two years, gaining a first. During his time at Cambridge he was still engrossed in his idea of jet travel. He was immensely encouraged by his tutor at Cambridge and by Melvill Jones the Head of Aeronautical Engineering. Fortunately, as his time at Cambridge was coming to an end, three of his colleagues, retired RAF pilots, suggested setting up a development company. Thus Power Jets was formed.
Finding Frank Whittle's birth record: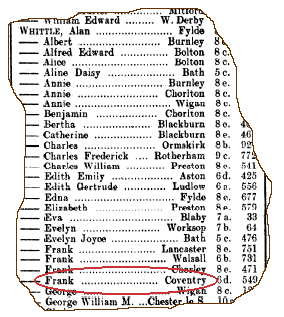 I began by doing a BMD Image Search in Birth Records, using TheGenealogist.co.uk website. I knew Whittle was born in Coventry in 1907, so I set the year range to 1907. I then typed in his forename and surname, and clicked search.
However, I did not know which month he was born in, so searched through the images until I found him. This took no more than three minutes!
I found him in the April - June birth records (above), and a closer look reveals the volume number and volume page number which can be used for ordering certificates (below).

To begin searching for your ancestors' birth records, you can visit TheGenealogist.co.uk or BMDIndex.co.uk.
Start building your family tree today with TreeView
(Powered by TreeView)
©2023 S&N Genealogy Supplies